Will The Jury Believe You That Your Ex Has Ulterior Motives For Accusing You Of Domestic Violence?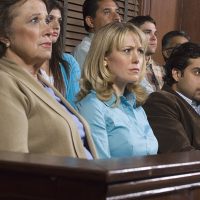 Accusations of domestic violence have been journalists' bread and butter since before the word "clickbait" existed and before it was possible to access news reports through an action called clicking.  If word gets out that your ex accused you of hitting her, the court of public opinion will have a field day, and if you claim that she falsely accused you, the feeding frenzy of gossip will only get bigger.  None of this is sufficient to convict you in a court of law.  Most domestic violence arrests do not lead to convictions, and not because the defendant cast doubt on the credibility of the accuser or the accusations.  Because there are usually no other witnesses when a couple's fight turns physical, the alleged victim's testimony is often what makes or breaks the case, and most alleged victims would rather drop the charges than testify against their current or former spouse or romantic partner.  If you are in the unenviable position of trying to defend yourself against domestic violence accusations at trial, contact a Tampa domestic violence lawyer.
Prenuptial Agreements Don't Lie
Simply claiming that the ex who is accusing you of domestic violence wants money or attention is not enough to establish reasonable doubt about the domestic battery charges against you; you need specific evidence, and you need it in writing.  Abe Haruvi, the owner of tens of millions of dollars in real estate, secured an acquittal for a domestic violence charge on the strength of the prenuptial agreement that he and his estranged wife Giovana Stephenson signed when they married in 2008.  The agreement said that, if Haruvi was convicted of felony domestic battery or first-degree misdemeanor domestic battery, Stephenson was entitled to a large share of the marital property if the couple divorced.  It also said that if they divorced after a marriage free from domestic violence, she would waive the right to alimony and most of the marital property.
In 2021, Stephenson called the police after an argument with Haruvi and claimed that he forcibly pulled and shoved her.  He was accused of first-degree misdemeanor domestic battery.  Haruvi pleaded not guilty, and at his trial, his lawyer showed the prenuptial agreement as evidence and said that Stephenson had "60 million reasons to lie," in reference to the money she would get as a divorce settlement if Haruvi were convicted.  The jury returned a verdict of not guilty.  Not only did the prenup establish doubt, but the jury also found inconsistencies in Stephenson's account of the incident.  As of April 2023, neither Stephenson nor Haruvi has filed for divorce.
Contact Tampa Criminal Defense Attorney Bryant Scriven
A criminal defense lawyer can help you if you are facing criminal charges for domestic violence against your ex-spouse or ex-partner, and you want the jury to know the whole truth, not just what your ex would have them believe.  Contact Scriven Law in Tampa, Florida to schedule a consultation.
Sources:
dailymail.co.uk/news/article-11011345/Real-estate-mogul-67-spared-losing-50M-Palm-Beach-home-jury-clears-battering-wife.html
efactssc-public.flcourts.org/CaseDocuments/2022/919/2022-919_Petition_80563_PETITION2DHABEAS20CORPUS.pdf