Tampa Flight To Atlanta Ends In Federal Assault Charges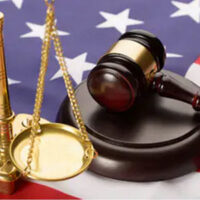 Last week on board a flight from Tampa to Atlanta, a woman was arrested for federal assault charges. The defendant Cornwall refused to wear a mask on board the flight despite instructions from flight attendants. Cornwall then refused to take a seat when a beverage cart went past her and said, "What am I, Rosa Parks." She continued to escalate with another passenger who argued with her about the derogatory comment. She threatened to pour hot liquid on him, punched him in the face and scratched him. Another passenger was also burned from hot liquids due to the physical assault. A Tampa resident helped flight attendants restrain the defendant, who was taken into federal custody.
What is Federal Assault?
Assault is defined as putting someone in fear of imminent harm, serious bodily injury or death. If convicted, the defendant in this case could face up to one year in prison, in addition to fines. When assault is aggravated by the use of a deadly weapon, defendants can face additional charges. The federal government has jurisdiction over the crime despite the fact that it took place in Atlanta because it occurred on a commercial flight. In this case, the defendant spit on and struck the victim. It is not clear if the victim will pursue civil charges, however the defendant may also face additional penalties such as a ban from Delta Airlines or the Atlanta or Tampa airports. Federal assault charges have dramatically increased on airlines in the past year which can be partially attributed to mask fatigue and frustration over the COVID-19 pandemic.
What Other Charges Could a Defendant Face on a Commercial Flight?
Depending on the circumstances, a defendant who causes a disturbance mid-air could face additional charges. For example, if the defendant struck a flight attendant, they could be charged with assault. If the defendant attempted to reach the cockpit, they could be facing additional charges for jeopardizing the safety of everyone on the plane. When a defendant is charged with a federal crime, they do not have the possibility of parole. The FAA has approved civil fines and penalties for passengers who cause disturbances up to $37,000 per violation. One incident can result in multiple violations. It's unclear from the report if the defendant will also be charged an FAA fine.
Contact Tampa Federal Crimes Attorney Bryant Scriven
A federal assault charge is extremely serious. It could affect your reputation, your livelihood, and your freedom. While it is difficult flying given the circumstances of COVID-19 and the more contagious omicron variant, passengers must adhere to flight attendant instructions. If you have been charged with a federal crime on a commercial airline or commercial airport, you need the assistance of an experienced criminal defense attorney. Tampa criminal lawyer Bryant Scriven is a former federal prosecutor with more than a decade of experience handling a variety of federal crimes including federal assault. He is a resource to people in crisis and is available 24/7 to help potential clients. Call today to schedule a consultation.
Resources:
faa.gov/data_research/passengers_cargo/unruly_passengers/
tampabay.com/news/tampa/2021/12/29/fight-on-delta-flight-from-tampa-to-atlanta-started-with-rosa-parks-comment-and-masks-feds-say/?itm_source=parsely-api