Falsifying A Florida COVID-19 Vaccination Card Is Illegal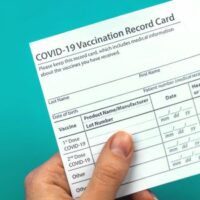 Police arrested a Miami couple vacationing in Hawaii with their children this past month, after identifying their fake COVID-19 vaccination cards. The couple also allegedly forged COVID-19 vaccination cards for their minor children who remain ineligible for the vaccine because they are under 12 years old. Now both parents are facing federal charges for falsifying an official government document. Ironically, proof of vaccination is not required to travel to Hawaii because it is a U.S. state. This couple is not the first to be arrested on charges of falsifying vaccination record cards, but their punishment serves as a warning to others who are cautious about getting vaccinated and might consider buying or making a fake vaccination card.
Penalties for Falsifying a Vaccine Record Card 
The penalties for falsifying a vaccination record are steep. Creating or manufacturing a fake vaccine card is a federal crime punishable by up to 5 years in prison. If a defendant is alleged to have mass produced multiple vaccine record cards using a fake government seal for the CDC emblem, they may face multiple years in federal prison for each offense. If convicted, a defendant may also face additional penalties including fines, ineligibility for parole, and a ban from establishments previously utilized with the fake card including airports or airlines. The risk simply is not worth the reward.
Unintended Consequences 
There are many unintended consequences to lying about your vaccination status or printing fake vaccination cards. If you lie about your vaccine status to avoid wearing a mask, you may unknowingly spread COVID-19 to an immunocompromised individual, a patient in cancer remission, an elderly individual with COPD or a young child with diabetic parents. If you spread misinformation about the vaccine, you undermine the efforts of essential workers and frontline healthcare staff and physicians working hard to heal patients.
Lying about vaccination status also further delays progress of getting back to normal, including returning students to in-person schooling.
Because children under 12 are ineligible for vaccinations, it is crucial adults consider vaccination to offer children in their lives protection and help prevent the spread. Because the virus continues to produce variants, it is important to stay vigilant. Some employers may compel vaccinations or negative PCR tests in the alternative, but falsifying vaccination records is a surefire way to face criminal charges.
Contact an Attorney for Help
Although Pfizer has now received full FDA approval for its mRNA vaccine, and Moderna is seeking the same authorization, many people  still have trepidation about getting the vaccine. While no one is being compelled to get vaccinated, U.S. citizens cannot lie about their vaccination status or present false documents purporting to be vaccinated. If you have been accused of either federal charge, you need legal counsel, and fast. Bryant Scriven is a seasoned Tampa criminal defense attorney with real experience handling federal cases. Call today to schedule a free consultation; you have nothing to lose.
Resources:
ic3.gov/media/y2021/psa210330
fbi.gov/news/pressrel/press-releases/federal-agencies-warn-of-emerging-fraud-schemes-related-to-covid-19-vaccines
tampabay.com/news/health/2021/08/20/florida-couple-arrested-after-entering-hawaii-with-fake-vaccination-cards-officials-say/