Can You Get Criminal Charges For Breach Of Fiduciary Duty?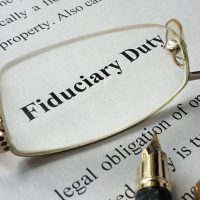 It is possible to steal money from a stranger's wallet if you can manage to do so without the stranger noticing you, and with enough hacking knowledge, you can break into a computer's hard drive and steal credit card numbers, but any financial crime that is more complex than simple theft involves a pre-existing relationship between the parties.  In most cases, the victim willingly disclosed financial information to the defendant, believing that it is safe to do so, or else the victim granted the defendant access to his or her money, believing that the defendant would use the money for the purpose that the victim specified.  In other words, many financial crimes involve a breach of fiduciary duty.  A fiduciary relationship is one where you have an official or professional responsibility to use another party's money in that party's best interest.  Examples of fiduciaries are employees with keys to the company cash register or debit cards linked to company accounts, trustees of trusts, personal representatives of estates, and parties to power of attorney documents.  If you are facing criminal charges related to breach of fiduciary duty, contact a Tampa theft lawyer.
Financial Exploitation of the Elderly Is a Crime
Fraud against the elderly by online scammers is a widespread problem in Florida, as is financial abuse of seniors by family members and professional caregivers.  Therefore, Florida law has defined a crime that covers both of these apparently unrelated scenarios, namely financial exploitation of elderly or disabled adults.  You can be charged with this crime if you intentionally cause an elderly person or an adult with a disability to lose money for your financial gain.  The charges can apply whether you are the alleged victim's family member, friend, pen pal, professional caregiver, agent in a power of attorney relationship, or even a perfect stranger.  They can also apply regardless of whether you obtain the money through lies, intimidation, sweet talking, threats, guilt trips, or just plain old theft.  If the amount you steal or defraud the victim out of exceeds $50,000, you can get a prison sentence of up to 30 years, but you can still get prison time if you steal less money.
What Happens If an Elderly Family Member Grants You Power of Attorney and Then Accuses You of Stealing?
Many Floridians have signed power of attorney documents with their elderly relatives.  These documents grant you (the agent) the right to make financial transactions and decisions on behalf of your elderly family member (the principal).  You could be charged with financial exploitation of an elderly person if you intentionally make bad decisions or enrich yourself with your family member's money.  Of course, there are two sides to every story; the accusations could just be a misunderstanding, your elderly parent's mean streak, or sour grapes from one of your siblings.
Contact Tampa Criminal Defense Attorney Bryant Scriven
A criminal defense lawyer can help you if you are being accused of financial crimes against an elderly person.  Contact Scriven Law in Tampa, Florida to schedule a consultation.
Source:
leg.state.fl.us/Statutes/index.cfm?App_mode=Display_Statute&URL=0800-0899/0825/Sections/0825.103.html