What's The Difference Between Carjacking And Vehicle Theft In Florida?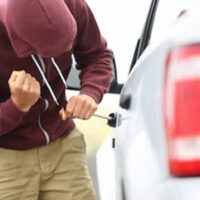 Last week in Tampa, two men crashed a car on I-75 driving at high speeds. When good samaritans pulled over to assist them, the men ordered the couple at gunpoint to drive them to another destination. Fearing for their lives, the couple complied. The men exited the vehicle at which point the victims drove to a Hillsborough County police station to file a report. The suspects have not been located yet, but because they left the scene of the one vehicle crash on I-75, they could also be charged with hit and run. How do prosecutors decide whether to charge a defendant with carjacking and vehicle theft? 
What is Vehicle Theft and What are the Penalties?
 Florida statute defines  theft as the obtaining of another's personal property with the intent to permanently or temporarily deprive the owner of the property. When a motor vehicle is stolen, the charge is constituted as grand theft, or colloquially, grand theft auto. Grand theft is a third degree felony punishable by up to five years in prison. The owner of the vehicle does not need to be present for a defendant to be charged with grand theft, in fact theft is distinguished from carjacking because the taking does not involve the use of force, rather theft often occurs without anyone knowing of the taking. 
How Can a Defendant be Charged with Carjacking? 
The key difference between vehicle theft and carjacking is the use of force or threat of force. Florida statute defines carjacking as the taking of a vehicle which may be the subject or larceny from one person to another, with intent to deprive the person of the vehicle, through the use of force, violence, assault, or the threat of force. The commission of a weapon or handgun in attempted or completed carjacking can elevate the offense to aggravated carjacking. The vehicle must be occupied by the rightful owner or guests of the owner at the time of the taking for the defendant to be charged with carjacking.  If the defendant does not make the victims exit the vehicle, and forces the victims to accompany him or her to another destination the defendant could also be charged with kidnapping. Carjacking is a first degree felony punishable by up to thirty years in prison in addition to fines. 
Schedule a Consultation with Tampa Attorney Bryant Scriven
If you or a loved one were arrested for theft, robbery, carjacking, or another property crime, it is crucial you contact an experienced criminal defense attorney as soon as possible. Attorney Bryant Scriven is an established Tampa theft attorney, and with additional experience as a former federal prosecutor, he understands the nuances of the criminal justice system. He helps clients through some of the most difficult times in their lives, and he can help you too. Call today to schedule a free consultation.
Resources:
leg.state.fl.us/statutes/index.cfm?App_mode=Display_Statute&URL=0800-0899/0812/Sections/0812.133.html
nbcmiami.com/news/local/men-crashed-car-carjacked-good-samaritans-near-tampa-fhp/2556962/