Property Crimes: Burglary & Aggravated Burglary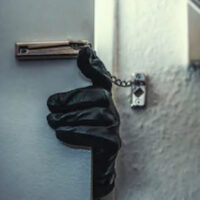 Recently in Tampa a defendant was apprehended for multiple counts of burglary. The Polk County Sheriff deemed his offenses especially heinous, because the defendant would target the homes of grieving loved ones attending a viewing or funeral. In total, the defendant is accused of burglarizing over ten homes, and his activity went unsuspected as relatives assumed the items stolen were doled out among relatives by the decedent's executor. He stole both weapons and other personal property, such as jewelry. Burglary is a very serious crime in the state of Florida. Multiple counts can add up to a lengthy prison sentence. 
What's the Difference Between Burglary and Robbery?
Florida statutes define burglary as "the unlawful entering of a dwelling, structure, or conveyance and remaining in the building to after permission was withdrawn with the intention to commit a crime within the building. A dwelling is a building constructed for residential purposes. Burglary of a dwelling is a second degree felony in Florida, punishable by up to 15 years in prison, in additional fifteen years of supervised probation and/or a fine of up to 10,000 dollars. Florida has a mandatory minimum sentence of at least 1 year in prison for defendants convicted of dwelling burglary. A structure is any other building with a roof constructed for occupancy, such as a retail store or professional office building. If the structure was occupied at the time of the burglary, a convicted defendant could be sentenced to up to 15 years in prison for a second degree felony along with 15 years of supervised probation and a substantial crime. Burglary of an unoccupied structure is punishable by up to 5 years in prison. 
What is Aggravated Burglary and Attempted Burglary?  
If the defendant or defendants enters a dwelling illegally or without permission and in commission of the burglary uses a weapon to hold the occupants or owners' hostage against their will, or assaults and/or batters the victim, they can be charged with aggravated burglary along with assault charges. Driving a motor vehicle into a dwelling for the purposes of burglarizing is also classified as aggravated battery. A defendant can be charged for criminal attempt if they have the specific intent to commit the crime (in this case, burglary) by breaking and entering the dwelling or structure and then remaining in the building to steal items. If the defendant enters the building illegally and then is thwarted in their attempt to remove items, they could still be charged with attempted burglary. 
Schedule a Free Consultation
If you were recently arrested and are not sure of your legal options or what to do next, contact attorney Bryant Scriven as soon as possible, but preferably prior to your arraignment. If you are still remanded, you are entitled to an attorney and can request to speak to one, or a family member can call on your behalf. It is important you act quickly to preserve your rights, prevent the spoliation of evidence and assert applicable defenses. Don't let one mistake ruin your career, your reputation, and your freedom. Contact Tampa criminal attorney Bryant Scriven today for a free consultation.
Resources:
fox13news.com/news/lake-wales-man-accused-of-burglarizing-homes-as-families-were-attending-a-funeral
leg.state.fl.us/statutes/index.cfm?App_mode=Display_Statute&URL=0800-0899/0810/Sections/0810.02.html