Man Charged With Making Written Threats After Harassing University Employees By Email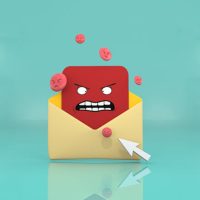 If the worst part of your workday is email, you have a pretty cushy job.  Being a university faculty member is one of the most fun jobs imaginable; if you doubt this, think of how many of your professors continued teaching beyond their 70th birthdays even though you know they can afford to retire because the university has been matching their contributions to their retirement funds for decades.  Professors love to grumble about all the annoying news they receive by email, another committee assignment here, more paperwork there, an endless flood of excuses and grade grubbing from students.  Earlier this semester, however, some employees of Florida Atlantic University received some truly alarming emails, and now the man who allegedly sent them is facing criminal charges.  If you are facing criminal threats because of something you said over email or some other form of electronic communication, contact a Tampa criminal defense lawyer.
Defendant Could Face 15 Years in Prison for Making Criminal Threats
Christopher Revere of Delray Beach is currently facing charges for making written threats because of emails that he allegedly sent to employees at Florida Atlantic University.  Making written threats is a felony in the second degree, according to Florida law.  If convicted, his sentence could include a fine of up to $10,000 and 15 years in prison or 15 years on probation, or some combination thereof.
In January 2023, a woman named Belinda who works at FAU received an email including death threats, abusive and vulgar language, and references to the fact that Belinda had previously told the author of the email to leave her alone.  In the weeks that followed, other employees of the university also received threatening emails from the same email address.  One of the emails had an embedded video of a man building and detonating a bomb.
The university employees who had received the emails reported them to law enforcement, and an investigation began.  Investigators quickly determined that the email address that sent the emails belonged to Revere, 35.  Police went to Revere's house, and he was home, but he refused to answer the door and to speak to them.
Like all defendants in criminal cases, Revere has the right to plead not guilty and to advance defenses that would cast doubt on his guilt.  When email is the main evidence of allegations of criminal threats, a possible defense is that the defendant was not the person who sent the emails.  Another possible defense is that the content of the email does not constitute a credible threat.  Case law does not clearly define what makes a certain speech act a credible threat.
Contact Tampa Criminal Defense Attorney Bryant Scriven
You have the right to a fair trial, even if the evidence against you came from your email account.  A criminal defense lawyer can help you deal with criminal charges for making criminal threats or other illegal actions related to communications using an electronic device.  Contact Scriven Law in Tampa, Florida to schedule a consultation.
Source:
cbs12.com/news/local/christopher-revere-written-threats-school-college-florida-atlantic-university-guns-ammo-bomb-email-tiktok-2-15-2023