Grand Jury Or Regular Jury: What's The Difference?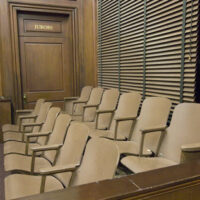 Often in popular media and crime tv shows, a scene will cut to a grand jury after a defendant is charged with a crime. That jury is composed of more than 12 jurors, but what exactly does a grand jury do? Do all defendants in a criminal case face a grand jury? Do you have a choice between a bench trial and a jury trial in a criminal hearing, or to decide sentencing? These are all good questions. Criminal procedure is a complicated area of the law. If you were recently charged with a crime and have questions about next steps or how to prepare for arraignment, call Tampa criminal attorney Bryant Scriven.
What is a Grand Jury?
A grand jury is assembled to determine if a defendant should be formally charged with a crime, or indicted. Grand juries are not gathered for every criminal case, and usually reserved for serious felonies. While a regular jury is usually composed of 12 members and 2 alternates, a grand jury can range from 12 to up to 30 or more jurors. Those who serve on a grand jury are not asked back to participate in the trial jury. The grand jury process is not open to the public. In some jurisdictions, a preliminary hearing or arraignment will take place instead of a grand jury. This is common in traffic court and for misdemeanors. During a grand jury, the jurors are presented evidence by the prosecution. The prosecution will explain the law, the circumstances of the crime, and may also introduce witnesses to help the jury determine if a defendant should be indicted. Unlike normal court proceedings, jurors in a grand jury are allowed to openly deliberate, and usually proceedings are not governed by a judge. If the jury votes to indict, the defendant is formally charged and the case moves forward.
What is Voir Dire?
Voir dire is Latin for juror examination. Voir dire does not occur in every criminal trial, and does not occur for grand jurors, only potential jurors during the jury selection process. A pool of jurors is gathered in the courtroom over a period of several days, before the judge, the defense and prosecution. Both sides get to ask jurors questions to determine if a juror could make an unbiased decision regarding the case. Even if a juror seems sufficient, both the prosecution and defense can dismiss a juror without stating a reason.
The questions attorneys ask of the potential jurors are designed to identify a group of jurors that will make fair, impartial decisions with no implicit bias or ulterior motive. If utilized correctly, voir dire is a tool that can serve the criminal defendant if his attorney can identify a biased potential juror. All jurors have to make a collective decision to convict a defendant, but if one juror cannot agree, the court must declare a mistrial. Both voir dire and grand juries are preliminary processes in the criminal justice system that should not be overlooked. It also highlights the significance of hiring a seasoned criminal defense attorney early on.
Call Tampa Criminal Defense Attorney Bryant Scriven
If you or a loved one were charged with a misdemeanor or felony in Pinellas or Hillsborough Counties, you need legal representation. It is never too early to hire a criminal defense attorney, and you do not have to give police a statement, only identify yourself. A criminal case can take months or even more than a year to proceed, and all the while your reputation, career, and freedom are on the line. Attorney Bryant Scriven worked as a criminal prosecutor on state and federal cases for years. Now he practices as a criminal defense attorney representing clients at every stage of the criminal process. Call today to schedule a free consultation.