Florida Just Got Less 420 Friendly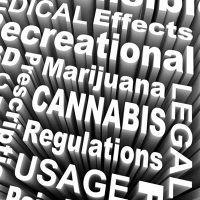 How 420 friendly is Florida?  It depends who you ask, and to some extent, it depends on the day.  If you walk along the beach in Tampa, you will probably find at least one person who has smoked a joint on the very same beach every day since the 1980s and has never faced criminal charges for it.  You will also find rural towns where the police and county sheriffs' can and do arrest people for possession of small quantities of marijuana.  Then there are the CBD enthusiasts lined up around the block outside health food stores of a certain persuasion, who will take every opportunity to tell you that their beloved substance is hemp, not weed, even though it comes from the same species of plant.  If you read the laws on the books, you will also find all of the above attitudes reflected.  Meanwhile, the laws continue to evolve, and Gov. DeSantis recently signed into law two bills that place additional restrictions on the sale and possession of cannabis products.  There are still plenty of situations where you can get criminal charges for cannabis, and if this happens, you should contact a Tampa drug crime lawyer.
SB 210 Outlaws California Sobriety in Florida Sober Living Homes
One of the two laws that recently passed is SB 210, which outlaws cannabis in sober living facilities.  The law states that residents in sober living facilities, which are abundant in Florida, may not possess medical cannabis, even if they have a medical cannabis card.  SB 210 requires the operators of sober living facilities to update their policies so that they explicitly state that a medical cannabis card does not give you the right to bring cannabis products into a sober living facility.  Meanwhile, the new law does not completely eliminate controlled substances from sober homes, because residents may still possess medications for which they have a valid prescription, even when these are controlled substances.
SB 1676 Prohibits the Sale of CBD Oil and CBD Edibles to People Under 21
The other new place of cannabis-related legislation is SB 1676, which makes 21 the minimum age for purchase of what the law refers to as "non-smokable hemp products."  Florida laws often use the term "hemp" to refer to products derived from plants of the genus Cannabis which have a very low concentration of THC.  THC is the chemical found in Cannabis plants which is the "active ingredient" in marijuana.  The "hemp products" referred to in SB 1676 are CBD oil and CBD edibles, which used to be legal for purchase by anyone 18 years and older, whereas CBD vape products had a minimum purchase age of 21.  Pursuant to SB 1676, you must be at least 21 years old to purchase any hemp products, smokable or otherwise.
Contact Tampa Criminal Defense Attorney Bryant Scriven
A criminal defense lawyer can help you if you are being accused of illegal possession or sale of cannabis.  Contact Scriven Law in Tampa, Florida to schedule a consultation.
Sources:
marijuanamoment.net/desantis-signs-bill-prohibiting-medical-marijuana-at-florida-recovery-residences-even-if-recommended-by-doctor/
cfah.org/cbd-oil-florida/
ccmedia.fdacs.gov/content/download/94417/file/hemp-and-cbd-information-for-law-enforcement.pdf
weedmaps.com/learn/laws-and-regulations/florida