Criminal Defense Lawyers Help Teens Avoid Adult Sentences In Criminal Court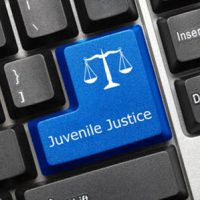 Juvenile courts do not convict young defendants; they only adjudicate them delinquent.  Likewise, they do not order teens to stay in jail or prison for a certain period, only juvenile detention.  Anyone with direct experience with the juvenile justice system can tell you that the differences are only a matter of terminology.  Kids who should be in high school, or even middle school, can get locked up for months at a time if a judge in juvenile court decides that this is appropriate.  Juvenile defendants do not even have the right to a jury trial; at adjudication hearings in juvenile court, the judge makes the decision single-handedly.  The law does not even require the juvenile court to appoint lawyers from the Public Defender's office to represent teens who cannot afford to hire a lawyer.  In other words, unless they have a family member who is willing and able to pay for representation by a lawyer, kids are on their own in juvenile court.  Even though the juvenile justice system states its mission as rehabilitation instead of punishment, juvenile detention is a miserable place; while in detention, young people miss out on education and medical care, and many of them witness violence or sexual abuse.  Despite all of this, going to juvenile court is much better than being charged as an adult.  If your teen is being accused of a crime for while adult criminal court is an option, contact a Tampa violent crime lawyer.
Teen Pleads Not Guilty to Manslaughter in Adult Criminal Court After Causing Fatal Collision
The minimum age at which prosecutors can charge minors as adults in Florida is 14.  They most often do this in the case of crimes that involve serious bodily injury or death, although the law lists 21 different felonies for which adult charges are an option.  Teens who have been through juvenile court in previous cases are more likely to be charged as adults.
Last month, Jah'kobe Bessent of Broward County pleaded not guilty to manslaughter, vehicular homicide, driving without a license, vehicle theft, and other charges in adult court.  In August 2022, when he was 15, he allegedly stole a car in Fort Lauderdale, increasing his speed when police were nearby and crashing into a car at an intersection.  Maria Telez-Valderrabano, 35, the driver of the car Bessent hit, died of injuries sustained in the collision.
Bessent faces a long list of charges.  Prosecutors charged him as an adult because of the seriousness of the offenses and because he has a long history with the juvenile court.  He has pleaded not guilty.  Jacory Fluornoy, who was with Bessent at the time of the accident, is going to juvenile court, because he was only 13 years old at the time.
Contact Tampa Criminal Defense Attorney Bryant Scriven
A criminal defense lawyer can help you if you are facing charges that would be punishable by prison time if an adult were convicted of them, even though you are a minor.  Contact Scriven Law in Tampa, Florida to schedule a consultation.
Sources:
sentencingproject.org/reports/why-youth-incarceration-fails-an-updated-review-of-the-evidence/
local10.com/news/local/2022/12/13/crime-spree-suspect-15-pleads-not-guilty-to-adult-charges-in-broward-court/
local10.com/news/local/2022/11/16/teen-to-be-charged-as-adult-in-death-of-mother-of-3-during-police-chase-prosecutors-say/