Two South Florida Men Face Criminal Charges After A Series Of Fraudulent UberEats Transactions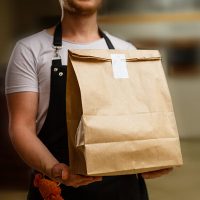 Just as a new wave of COVID gains momentum in the distance, South Floridians have finally started to unlearn some of the bad habits we picked up during the pandemic.  We have returned to the habit of greeting each other and making small talk instead of only ever taking a break from doom scrolling through news headlines long enough to post passive aggressive comments about members of our peer group on social media.  We appreciate the simple pleasure of strolling through the aisles of a supermarket, even though the merchandise is so expensive that the only way we can afford it is with buy now pay later (BNPL).  We borrow money from friends whose trust we don't want to lose if we don't pay them back instead of drunkenly clicking on peer-to-peer lending sites.  One pandemic habit we can't quit, though, is UberEats, no matter how much the worse our bank accounts and our waistlines may be for it.  Spending extraordinary amounts of money on food delivery might be unwise, but it usually is not a crime.  Meanwhile, two South Florida men went on a months-long UberEats spree that could end in a prison cell.  If you are being accused of financial crimes against online vendors, contact a Tampa white collar crime lawyer.
Is It a Crime to Order UberEats From Yourself?
In August 2023, Trayon Morgan of Lauderhill and Roy Blackwood of Sunrise received criminal charges this week for grand theft and organized scheme to defraud.  Morgan began working as an UberEats driver sometime before January 2022, which was when the fraud allegedly began.  Using a fake name, Morgan would place a large food delivery order on the UberEats app, and using a different fake name, he would log into the UberEats app as a driver and accept the order.  Then his customer persona would cancel the order, and UberEats would issue a refund in the form of a Walgreens gift card.  Blackwood would drive Morgan to various Walgreens locations to spend the gift cards.  By the time police arrested Morgan and Blackwood, they had spent nearly $1 million in gift cards.  Morgan allegedly created fake identities by making UberEats profiles using his own picture plus the identifying information of other UberEats drivers, but it does not appear that he is being accused of identity theft.
The scheme unraveled in January 2023, when police began watching the surveillance camera footage of Walgreens stores.  Over several days, Morgan and Blackwood visited 27 Walgreens stores in Broward and Palm Beach Counties, buying over $5,000 in merchandise at Uber's expense.  Morgan and Blackwood were arrested separately in August at the end of the investigation.  News reports did not indicate whether they have entered a plea or what sentence they could face if convicted.
Contact Tampa Criminal Defense Attorney Bryant Scriven
A criminal defense lawyer can help you if you are being accused of theft or other financial crimes.  Contact Scriven Law in Tampa, Florida to schedule a consultation.
Source:
cbsnews.com/miami/news/bso-2-men-scammed-ubereats-out-of-more-than-1-million/?intcid=CNR-01-0623